- Stock photos for purchase and download -
- Affordable Event and Wedding photography -
- Studio photography in West Lafayette, Indiana -
You are at www.elmorephoto.com/Weddings.html
Wedding photography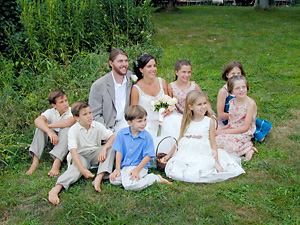 Weddings are very special times that need to be recorded for all family and future generations. We have the equipment and experience needed to create many hundreds of wonderful images for you.
Our rate is $150 per hour of wedding event coverage which includes two photographers (minimum 4 hours). For weddings outside of Tippecanoe County, Indiana, we charge $0.50/mile travel expense. Within two weeks after the wedding we will post proofs on the internet, password protected if requested, and provide raw image files on CD or DVD so you can have prints made at your lab of choice. If you want, we will edit the images for you charging only $50/hour. We will provide mounted large prints ready for display at the prices posted on our companion site REDIpix.com.
Contact us for scheduling photographic coverage of your wedding events and to schedule an interview so we can learn about your preferences for photography coverage.
Wedding events photographed